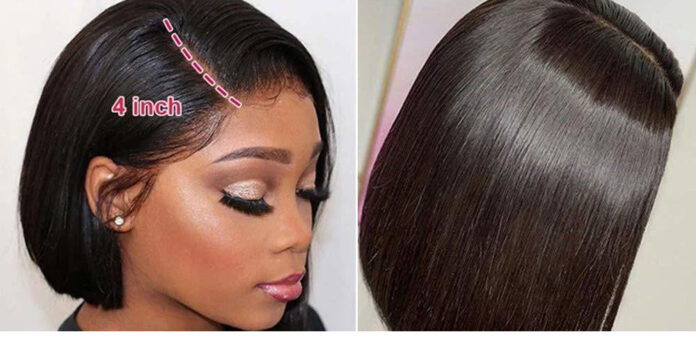 Lace front wigs are one of the longest-lasting trends in the hair industry. Lace front wigs have laster for this long because of their wide array of options. They come in varying styles and hair lengths, like short bob lace front wigs. Short bob wigs are usually chin-length and elegant. They also come in various colors and styles. This post discusses who can wear short bob lace front wigs.
About short bob lace front wigs
Bob wigs are fairly decent and low maintenance wig options. They are also incredibly comfortable to wear because of their length and lightweight nature. You can wear short bob lace front wigs in varying styles. For instance, you can opt for straight, wavy, or curly short bob wigs for a modern look. On the other hand, if you are looking for a classic and elegant look. A straight chin or shoulder-length bob wig would be perfect.
Short bob lace front wigs are even more beneficial because of their sheer lace material at the front. The lace material allows you to play around with different hairstyles. It also gives you a natural look. However, the hair type and color also affect how natural the wig appears.
Who can wear short bob lace front wigs?
Wigs are not designed for specific people. However, some wigs look better on some people than others. Below are ideas of who can look good in a short bob lace front wig;
1. People with oval faces
One of the criteria you can use to determine the right wig for you is your face shape. People with oval faces are the luckiest because they can wear almost any wig style and length. Short bob wigs frame oval faces perfectly. They will neither make your face look longer nor shorter.
2. People with square faces
Square-faced individuals have a striking jawline. Therefore, the best hairstyles should accentuate their best feature, the jawline. Short bob wigs are perfect for this task. They do not overwhelm the face or cover the jawline. Short bob wigs take away from the wide hairline and non-impressive qualities by accentuating the jawline.
3. People with diamond faces
Diamond-faced people would also look great with short bobs. The hair length makes the jawline appear larger and accentuates other incredible qualities like striking cheekbones.
4. People doing manual jobs
People doing manual jobs like hairdressers, chefs, and other manual workers can also do well with short bob wigs. They are comfortable, lightweight, and easy to manage during work hours. Short bobs are also great for cooks and scientists because they can fit perfectly into hairnets.
Final word
There is more to choosing the right wig than the wig qualities and style. You must consider other elements like your occupation, face shape, comfort, and skin sensitivity. For instance, you can wear short bob wigs to official occasions as they have an elegant appeal. However, wearing them to a party would make you look out of place. Regardless, the fashion world is very subjective. What works for you may not for someone else, and vice versa.